Hi, gamers. As part of our weekly Being Home blog series, we're going to be sharing some cooking tips for you. With all that's going on with COVID-19, we're cooking and eating at home more. We're sharing a couple of our favorite recipes. These are also great recipes for multiple meals and to make ingredients stretch.
VERSUS EVIL POT PIES
This recipe is great for reusing leftovers. Leftover rotisserie chicken from the store? Works. Leftover baked chicken breasts from yesterday? Works. Short story is you need about 2.5 cups of meat. If you have more, you can make more pies, its all fine. You can make one, big pie if you want. We like little ones. Eating several little pies versus one large pie will allow you to eat more pie in the long run. Science. Everything in the filling is cooked so you can taste test it before you fill the pies.. so if its missing something, add it.
Ingedients:
1 box of mini pie crusts, or 1 big pie crust, or you can make a pie crust if you know how.
1/3 cup butter or margarine
1/3 cup chopped onion
1/3 cup all-purpose flour
1/2 teaspoon salt
1/4 teaspoon pepper
1 3/4 cups chicken broth – from carton, or bullion, or homemade if you have the patience.
1/2 cup milk
2 1/2 cups shredded cooked chicken or turkey.
2 cups frozen mixed vegetables. Thaw them if they're frozen leftovers or frozen from the store. We like peas, carrots, and corn. Careful with potatoes, they soak up broth.
Steps:
1. Heat oven to 425°F.
2. In ~ 2-quart saucepan melt butter over medium heat. Add onion; cook 2 minutes, stirring frequently, until tender. Stir in flour, salt and pepper until well blended. Gradually stir in broth and milk, cooking and stirring until bubbly and thickened.
3. Stir in chicken and mixed vegetables. Remove from heat. Spoon chicken mixture into crust-lined pan or dishes. Top with second crust; seal edge and flute. Cut slits in several places in top crust. Make sure you do this because its going to boil/burst otherwise.
4. Bake 15 to 20 minutes. Quickly pull out the pie and cover the crust edge with strips of foil to prevent excessive browning.
5. Bake an additional 15 to 20 minutes until the pie is golden brown. Let sit for 5 minutes before serving.
TWO INGREDIENT PIZZA DOUGH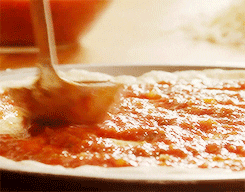 Pizza dough is surprisingly easy to make, and technically this is pretty healthy. You can also use this to make cheesy garlic bread if you want. It takes about 25 minutes from start to finish, and you can easily add any sauce or toppings you have in the fridge to satisfy your pizza craving for super cheap.
Ingredients:
2 cups self rising flour
1 cup greek yogurt
Spices to taste: we recommend garlic (powder or fresh), italian seasoning, and paprika. Without the spices the dough can be a bit bland. A little goes a long way here, unless you're trying to ward off vampires. 
Steps:
1.Put a pizza stone or inverted baking sheet on the center rack of the oven and preheat to 450 degrees F.
2. Put the flour and yogurt in a large bowl and mix with a fork until a shaggy dough forms. (The dough may appear dry and crumbly at first, but it will come together as you mix it.)
3. Turn the mixture out onto a lightly floured work surface and knead until the dough is smooth and slightly elastic, about 8 minutes, dusting with more flour if necessary. If the dough feels too dry, add water, a tablespoon at a time and continue kneading until it is soft and pliable.
4. Divide the dough in half, roll into balls and then use a rolling pin to roll out into two 10-inch pizzas. Dust the back of another inverted baking sheet or pizza peel with more flour, semolina or coarse cornmeal and place a circle of dough on top. *Note: If you're going to save the dough for later, wrap the dough balls in saran wrap and store in the fridge until ready
5. IF you want to go full-blown pizza, now's the time to put sauce and shredded cheese on the dough. Leave a border around the edge, about half an inch.
6. Slide the pizza onto the preheated stone or baking sheet in the oven. Alternatively, roll out the dough on a baking sheet, top as desired and put the sheet in the oven to bake. Cook until the crust is golden and the cheese is bubbling, 8 to 10 minutes. Using a large spatula, transfer the pizza to a cutting board and let sit 5 minutes. Repeat with the remaining dough round.
That's it from us for now. We'll be coming back next week with some more tips for being home.